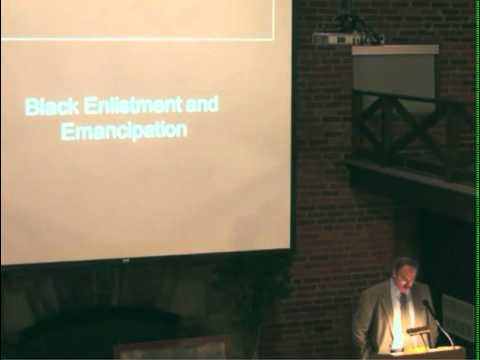 This video and the following commentary were posted by my friend Dr. Joan Stack on Facebook today and I am reposting them here with her permission.
    [The video above is] a lecture by historian Christopher Phillips. Some of you may know that I have problems with Phillips' interpretation of the life and career of Gen. Nathaniel Lyon in his book, Damned Yankee. I was surprised to find that I liked this lecture, although I disagree with a few points (specifically with the suggestion that artist G. C. Bingham identified with the Confederacy after the war). Phillips actually has some pretty great research and references in his talk. I will be looking for some of these citations when his book comes out next year. HOWEVER, while I like many of the specific examples and points that he makes in his lecture, I have some problems with the overarching argument. In the presentation and in his upcoming book, The Rivers Ran Backward (Oxford University Press), Phillips argues that after the Civil War Missourians came to identify themselves as Southern.
      In an interview, Phillips summarized this thesis as follows, "Before the war, loyalties and how people defined their local communities and regions ran in one direction. After the war, they largely ran in an opposite direction. The war caused a seismic shift that still echoes today, where states like Kentucky and Missouri became 'southern,' and Ohio, Indiana and Illinois became 'northern,' or, for others, 'Midwestern.'"
      Phillips presents a persuasive argument that the rebel-leaning, white supremacist element in Missouri had a powerful resurgence from the 1880s onward. However, I would argue that there has also been continued resistance to this element among the majority of Missourians. As a lifelong Missourian I have NEVER identified as Southern or Confederate. Phillips' attempt to force a Southern identity on Missouri reminds me of the earlier attempt by another focus of Phillips' research, Missouri's rebel Governor Claiborne Fox Jackson, to drag the state into the Confederacy against the will of the majority of Missourians!
     In an informal survey of people that I know, the only Missourians who consider themselves southern come from southern Missouri. Most others feel uncomfortable with any regional identity and if they had to pick one, would consider themselves Midwestern.
     Many Missourians, including myself, have a split or schizophrenic identity. This fractured understanding of self gives many people from my state insight into a variety of regional allegiances. I believe Missourians' complex identity has sometimes allowed them to understand the multifaceted nature of America as a whole better than residents of other states (think Mark Twain, G. C. Bingham, and Thomas Hart Benton).
With that said, Missouri's recent entrance into the SEC supports Phillips' argument, (but remember, we almost joined the Big Ten!)